Mechanism to lift
Stainless steel bracket with adjustable segment, folding-up with a line. Folding under speed is no problem, because there is a 4:1 line reduction ratio. Generator is locked into position when deployed. Quick fastener device for mounting on transom bracket.
Generator
Generator part: 
Gear drive with shaft, propeller and programmable converter charger with digital display and 4 m 3-core cable
Performance: Generates power from 4 knots (depending on boat speed and propeller blade pitch)
Output: 50 to 600 Watts depending on speed and battery load
Generator Dims.: Gear drive with shaft and bracket: 1100 x 100 mm, propeller diameter 360 mm
Charger
Rated Power: 
1.000W (Best ratio: Hydro Generator 600W, PV cells 400W)
Applicable batteries: 12V from 200Ah up to —-, 24V from 100Ah up to — (voltage detected automatically)
Battery full charge cut: 16V /32V (adjustable)
Battery low voltage disconnect load: 11V / 22V
Load on voltage: 12.44V (default adjustable)
Load current max: 40A (20A at 24V)
No load loss: ≤45mA
Dimensions: 278 x 133x 75 mm
Weight: 1,6 kg
Working environment: Working temperature: -10-50°C Relative humidity: 0-90% (no exterior  installation, only inside the cabin)
IMPORTANT: Unfortunately, todays there is more and more pollution in the waters and we would like to point this out to you, we do not offer any warranty or guarantee or assume any liability for damage to the propeller and generator caused by overloading or impact, for example, by objects floating in the water such as ropes, fishing nets, plastic parts, containers, seaweed etc.!
Generator
Smooth running through custom-designed planetary gear
Low ratio prevents high motor speeds
Optimized efficiency through custom-designed transmission
Double seals (2 O-rings each)
Multiple-bearing propeller shaft
Easy to remove and disassemble
Hard anodized aluminium housing and special synthetic cover.
Streamlined anodized aluminium body
All screws (A4) are additionally protected against corrosion by Duralac
No propeller forces transmitted to the gearbox due to special coupling
Almost inaudible in the water
Charging from 4 knots upwards (depending on the pitch setting angle setting of the propeller blades)
Propeller
Main body manufactured in a solid synthetic material
Stove enamelled aluminium propeller blades.
Blade angle is infinitely adjustable depending on type of the boat (speed)
Propeller blades are replaceable (i.e. after collision)
Blades were designed using CFD software (Computational Fluid Dynamics) to optimize the blade form and twist for superior performance
Regulator
Up to 16/32 volt adjustable, perfect to compensate for voltage loss
With built-in free wheel (propeller turns freely when max. retained battery voltage is reached)
Additional connection for solar panels or wind generator
Additional connection for direct output, which will be automatically shut down when sufficient battery voltage is obtained
NEW: integrated, digital display
NEW: additional switch for free wheel
NEW: additional alarm when battery is completely charged
NEW: higher output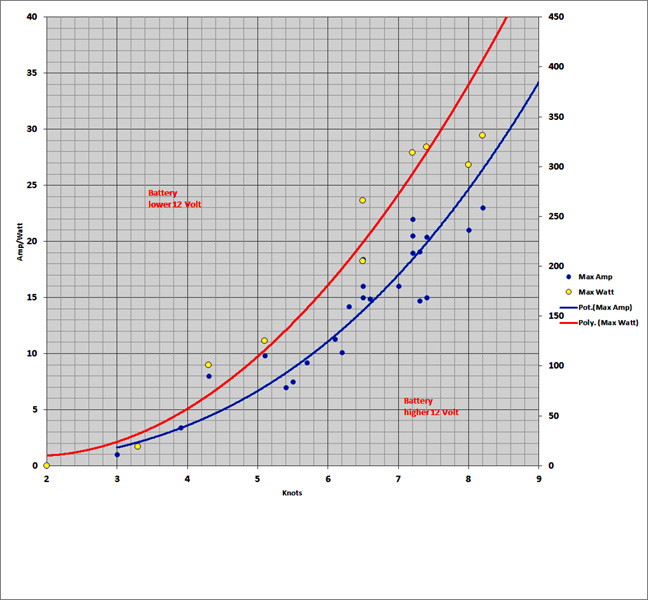 Set of propeller blades

 

Pivotable transom bracket

Standard bracket

Support for bathing platforms
3 propeller blades
Stove enamelled aluminium propeller blades
Pivotable transom bracket
The Hydro Charger will always be in a vertical position in the water an therefore can achieve an optimal performance.
The holes are identical to the normal transom bracket and can be retrofitted with the normal bracket.
The swing resistance is adjustable using the self-locking nut. Thereby you achieve a slowly drop of the Hydro Charger.
This bracket is specifically for the sideway fitting of the transom.
Material: Stainless Steel
Size: 260 x 70 x 30 mm
Weight: ca. 3,5 kg
Stainless steel bracket with middle section in plastic and counter plate.
Including screws, nuts an security bolt.
Material: Stainless Steel
Size: 260 x 70 x 30 mm
Weight: 2 kg
Support for bathing platforms
Mit der robusten Winkelhalterung aus Edelstahl können Sie den Hydro Charger problemlos an fast jede Badeplattform montieren.
Material: Stainless Steel
Size: 265 x 70 x 260 mm
Weight: 2,4 kg
For the use with lithium-ion battery it is absolutely obliged, the installation of a breaker in the yellow AC cable, between generator and controller, which is commanded from the BMS (Battery Management System) of the battery. This installation has to be approved from the battery producer. Swi-Tec overtakes no responsibility for this installation.
SWI-TEC, Neveta Nautica SL
For over 20 years our philosophy has remained unchanged: We develop special products for everyday use on board to make life a little easier for you. We use high quality materials for production so as to offer you yacht accessories with extreme durability and high quality. Our product are there to make you enthusiastic every time you use them.